The Old Testament promise that in the new covenant all God's people will know him (Jer 31:34) is fulfilled in Jesus' death and resurrection, and the outpouring of his Spirit.   Now all God's people know Jesus and the plans of God (Eph 1:9-10) and will be involved in knowing, serving and speaking the truth that is in Jesus.  Yet, some are set aside to teach, train and grow God's people in his word and in gospel ministry, in particular:
Gospel Trainers and Pastors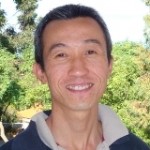 Du Vinh Nham
Is married to Robyn (and they have Sophie and Toby). Du Vinh & Robyn became Christians at university and have been trained at Moore Theological College.   Du & Robyn are passionate to see Curtin University students know Jesus (as their great God and Saviour) and God's plan in Jesus' death and resurrection to bring all things under him.